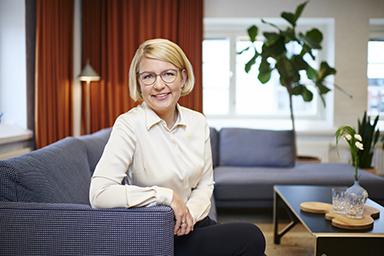 We started the year with healthy demand and solid momentum in our main markets, and we delivered our eighth consecutive quarter of net sales growth. The organic, currency neutral growth of more than 13% was especially driven by our business area Terra, although both the Vita and Crea business areas also contributed to net sales growth. Growth was profitable, with a comparable EBIT margin of 15.6%.​
We continued to execute our growth strategy, with a clear focus on our four transformation levers: commercial excellence; direct-to-consumer (DTC); the U.S.; and China. We started the execution of our growth strategy in 2021, and we have already been able to deliver tangible and sustainable results based on it. Our gross margin (excl. IAC) improved to 45.6%, our DTC sales grew 14% despite some short-term lockdowns in China due to Covid-19, and we grew in the U.S. and China, with a 16% and 53% increase in net sales, respectively.​
We also continued to invest in our capabilities to ensure long-term competitiveness. Our strategic spending on digital acceleration and DTC growth was approx. EUR 5 million, and we continued recruiting critical capabilities, especially in e-commerce and in our own retail.​
As of February, we have seen significant challenges in global supply chains and accelerated, broad-based input cost inflation, driven both by the war in Ukraine and Covid-19-related disruptions in China.​
Although visibility on longer-term developments remains limited, we believe the actions we have either taken or are taking will enable us to mitigate the negative impacts of input cost inflation this year. However, we expect there will be volatility between the quarters due to timing differences between cost inflation and respective mitigating actions.​
We have been able to serve our customers and avoid any major product availability challenges, which has been a competitive advantage for us. Our focus is now on ensuring the shipments for the rest of the year.​
We made some structural changes in Q1. In February, we closed the divestment of our North American watering business. This transaction was announced in December 2021.​
In March, we announced that we have decided to withdraw completely from the Russian market due to Russia's attack on Ukraine, which we condemn in the strongest possible terms. The exit from the Russian market will not have a significant impact on our 2022 results, and the one-time impacts of the withdrawal are included in our Q1 Items Affecting Comparability.​
We also took several important steps towards our circular economy target of having the majority of our net sales from circular products and services by 2030. In Q1 2022, 5% of our net sales were generated from product ranges made from recycled materials.​
Consumers and third parties acknowledged our sustainability work. In Q1 2022, we received several external awards and recognitions including our listing on CDP's 2021 Supplier Engagement Leaderboard, and a platinum level sustainability rating from Ecovadis. Also, our Fiskars brand was recognized in the Sustainable Brand Index 2022, which was published in March 2022. According to consumers, Fiskars is the most sustainable brand within the hobby and leisure category, and the 4th most sustainable brand overall in Finland.​
We also made changes to our Fiskars Group leadership team to further support the implementation of our growth strategy. Charlene Patten Zappa was appointed Executive Vice President, Business Area Terra, and Anna Mindelöf was appointed Chief People Officer. Additionally, the Consumer Experience and Communications function was merged into the Business Areas and other functions to simplify the organization, accelerate business execution and improve accountability. ​
Although the business environment is getting more unpredictable and volatile, and not all impacts on our business can be foreseen, we continue to execute our growth strategy with confidence.​
Based on the building blocks we have in place to execute our growth strategy, and the actions we are taking to mitigate current challenges in the business environment, we reiterate our full year 2022 guidance of improving comparable EBIT.
NATHALIE AHLSTRÖM
President & CEO