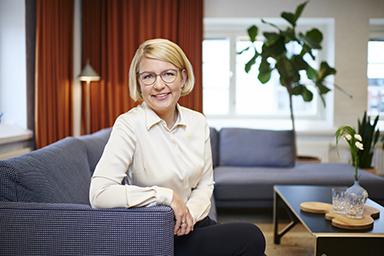 In line with our expectations, challenging market conditions and a weak demand environment continued to affect our business in the second quarter, resulting in a significant drop in volumes. Consequently, our comparable net sales declined by 13% and comparable EBIT declined to EUR 23 million. While we cannot be pleased with this development, we did see a clear improvement in our gross margin, which will be a positive engine once volumes recover. Another highlight was business area Crea's all-time high second quarter profit, demonstrating the importance and power of our broad-based portfolio. Additionally, our
free cash flow improved significantly as a result of our continued actions to adjust supply volumes.

We are not currently seeing meaningful signs of improving market conditions in the second half of the year. Low consumer confidence in our main markets, as well as retailers' focus on inventory management, will affect demand and sales more negatively than previously anticipated. As a result, we lowered our guidance for the full year 2023 in the beginning of July. We now expect comparable EBIT to be in the range of EUR 120-130 million in 2023. Savings from previously announced organizational changes are expected to support EBIT in the second half, and we also remain focused on prudent cost management.

In this environment, having a crystal-clear Growth Strategy is more essential than ever, and it sets the framework for the choices we make. We continue to invest in the key strategic building blocks to ensure our long-term competitiveness. Looking at the first half of the year, we saw good progress in three of the strategy's transformation levers: commercial excellence; direct-to-consumer (DTC); and China. Our like-for-like gross margin, which is our key performance indicator for commercial excellence, increased by 160 basis points in January-June. DTC sales increased by 6%, amounting to 21% of the Group's sales,
with good development in several key markets. In China, sales increased by 30%, with strong sales growth since February. In the U.S., which is the fourth transformation lever, our net sales decreased by 18% in January-June as retailers' focus on inventory management continued to affect demand.

In terms of sustainability, we set our fifth ESG target measuring our employees' inclusion experience. We want to build an inclusive, fair, and open working environment, in which everyone feels heard, and their uniqueness is celebrated. The target is to be within the global top 10% of high-performing companies in terms of inclusion experience. We still have work to do to reach our target, but we are on the right track.
In June, we started the first enrollment period for Fiskars Group's employee share savings plan "MyFiskars", which was launched earlier this year. The aim of MyFiskars is to offer employees the opportunity to acquire and own Fiskars shares, thereby creating a stronger culture of ownership and entrepreneurship, as well as to further strengthen our employees' long-term commitment to the company. It is great to see that already close to 13% of all our employees globally and 30% of office employees have signed up in the first enrollment period. I warmly welcome our new shareholders.

Our brands had some exciting launches during the quarter. Moomin Arabia introduced a new product category by entering to home with bedroom and bathroom textiles. Wedgwood launched its new creative vision, which connects the heritage of the brand to the innovative thinking of its founder Josiah Wedgwood. The creative vision is all about pushing boundaries with design and being an innovator in the tableware category.

In the second half of the year, we will focus on profit and cash protection. Although the near-term market conditions remain challenging, I am confident that our Growth Strategy and the actions we have been taking will continue to bear fruit.
NATHALIE AHLSTRÖM
President & CEO