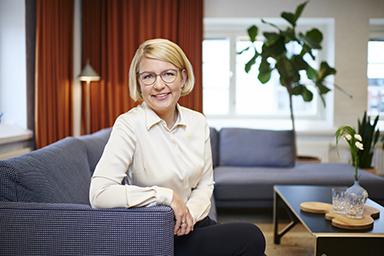 The year 2022 was two-fold for Fiskars Group; whereas in the first half of the year our net sales grew by double-digits, in the second half our net sales declined as demand weakened. This resulted in comparable net sales growth of 1.7% for the full year. Taking into account the uncertainty and volatility in the operating environment during the year, I am pleased that we reached a comparable EBIT of EUR 151 million in 2022 – the second best in the history of Fiskars Group. I would like to thank our employees, customers and partners
for what has once again proven to be an exceptional year.
In the fourth quarter, our comparable net sales declined by 12.2%. Low consumer confidence combined with retailers' elevated inventory levels resulted in lower than anticipated orders from customers, especially in the important U.S. market, where our net sales declined by 26%.
Although sales did not develop as we had expected, there were several positive factors in the fourth quarter. Our comparable EBIT margin improved by 70 basis points driven by gross margin improvement and prudent cost management. Another highlight was our own e-commerce, which grew by 30% in October-December. This shows that our investments in direct-to-consumer (DTC) and digital are paying off. I was also pleased that we were able to turn our free cash flow positive during the quarter after it had been negatively impacted by higher inventories during the year. The inventory levels are still clearly elevated, and we will continue to work on bringing them closer to targeted levels. As part of these measures, we are notably planning to temporarily adjust the production capacity in our factories in Billnäs and Sorsakoski.
The first full year of our Growth Strategy execution is now behind us, and we can see that its four transformation levers – commercial excellence, DTC, the U.S., and China – are delivering tangible results. Our like-for-like gross margin, which is our key performance indicator for commercial excellence, improved by 60 basis points in January – December despite broad-based cost inflation. DTC grew by 8% in 2022 amounting to 21% of the Group's sales with very good development especially in e-commerce. In the U.S., our net sales declined by 4% as demand weakened significantly in the fourth quarter. Although the U.S. market did not develop as we had anticipated at the beginning of the year, we continue to see significant potential and growth opportunities for Fiskars Group in the country. Our China business continued on a strong growth track with sales growing 36% during the year despite intermittent Covid-19 disruptions.
We are a company in transformation and our Growth Strategy sets the framework for the choices that we make on this journey. In November, we announced changes in our Leadership Team to be more aligned with our strategy and its transformation levers. The changes included adding the new role of Executive Vice President, Direct to Consumer, to the Leadership Team as well as dividing the wholesale organization into two regional roles: one for the Americas and one for Europe and Asia-Pacific, excluding China.
In January 2023, we announced plans for targeted organizational changes mainly in our Business Areas Vita, Terra and Crea to accelerate strategy execution. The goal of these planned changes is to ensure that we allocate our resources to our strategic growth drivers. The planned changes are expected to lead to a net reduction of approximately 100 roles globally and to result in total annual cost savings of approximately EUR 30 million. At the same time, we will continue to invest in key strategic building blocks.
In 2022, we made good progress on sustainability, one of our strategic enablers. During the year, we continued to develop circular solutions and approximately 5% of the Group's net sales were generated from our brands' recycled material product ranges. Our target is that by 2030, the majority of our net sales will come from circular products and services. We are also taking concrete actions to reduce our emissions; one example is the investment in our Iittala factory in Finland, where we will replace the factory's existing natural gas powered furnaces with electricity powered furnaces. These new furnaces will reduce Fiskars Group's annual direct carbon dioxide emissions (Scope 1) by 26% by the end of 2026. During the fourth quarter, we were honored to be recognized in CDP's Climate Change A list for our transparent reporting and ambitious climate work.
Looking at 2023, it is evident that especially the first half of the year looks challenging in terms of the market environment and demand. With a softer demand outlook, our focus this year will be on securing profit and cash flow. We expect our comparable EBIT to be slightly below last year's level in 2023. Savings from the planned targeted organizational changes are also expected to support our EBIT from the second half onwards, although we will continue investing into our strategic building blocks at the same time.
NATHALIE AHLSTRÖM
President & CEO