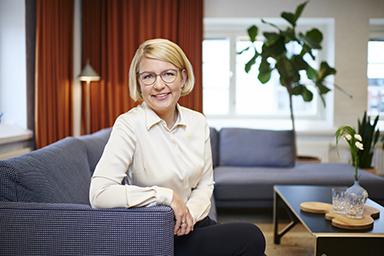 We continued on a strong growth path in the third quarter, marking the sixth consecutive quarter of growth. At the same time, this was our highest thirdquarter net sales ever. Comparable EBITA fell somewhat behind the record high level seen last year.
Our financial performance improved towards the end of the quarter in all Business Areas. Comparable net sales increased in Vita and Crea, while it was at the previous year's level in Terra. For Terra and Crea, the comparison figures from 2020 were at record levels.
Despite challenges in the global supply chains, we have successfully served our customers, which has been a competitive advantage for us. The risks related to product availability are still ongoing. In addition, raw material and logistics prices continue to increase. A new factor is the increase in energy prices, which impacts Vita in particular. We continue to mitigate these factors. However, there might be a lag with the timing of the cost inflation and the effect of the actions.
During the second half of the year, we are investing more in our growth levers. These investments are mostly related to our digital operations, to develop our capabilities within data, direct-to-consumer and the consumer experience. During the third quarter, we opened approximately 50 new positions to support our Digital growth initiative. We have also made changes to our current IT operations, which will bring savings from 2022 onwards. We expect these upfront investments to be covered by future savings.
Our two ongoing restructuring programs are coming to an end. In the half-year financial report of 2021 we gave an update on the Vita transformation program. We can now confirm that the Restructuring program will also be completed by the end of 2021. We expect that the majority of the benefits will be realized by the end of 2021. Additionally, the costs of the programs will be significantly lower than originally anticipated. In other words, 2021 will mark the completion of both programs, delivering the savings we targeted and with costs below our initial expectations.
Our focus is now on ensuring the shipments for the important last quarter of the year. At the same time, we continue to implement our strategy to create organic growth for the longer term. As part of our growth plans, we announced a new global strategic partnership with Moomin Characters, as we announced the acquisition of a minority stake in Rights & Brands, a licensing agency representing iconic Nordic brands such as the Moomins. We look forward to discussing our growth strategy in more detail at our Capital Markets Day on November 9, 2021.
NATHALIE AHLSTRÖM
President & CEO